Terrace of our rental house in Soriano nel Cimino
While it's easy to wander around developing countries without booking anything beforehand, in Europe we had to plan ahead to keep accommodation costs low. Of course, we wouldn't have had to plan so much if we had stayed in hostel dorm rooms, but we're now a fussy old married couple who want private rooms and private bathrooms without the hotel prices. Renting apartments and cottages was perfect for us.
Why Renting Apartments Is Awesome
You feel like you live there
An apartment provides a better sense of what it's like to live in a particular city than indistinguishable hotel chains. We slept on tatami mats in our Japanese house in Kyoto. We walked our Australian hosts' dog to the nearby beach so he could gleefully bite ocean waves. We met neighbors like the elderly Italian women (and Paulina the dog) who gossiped in the courtyard of our rental in a small medieval hill town. We often stayed in residential neighborhoods and walked to our favorite bakery daily to buy fresh baguettes and chat with friendly workers who weren't sick of tourists.
Apartments come with other stuff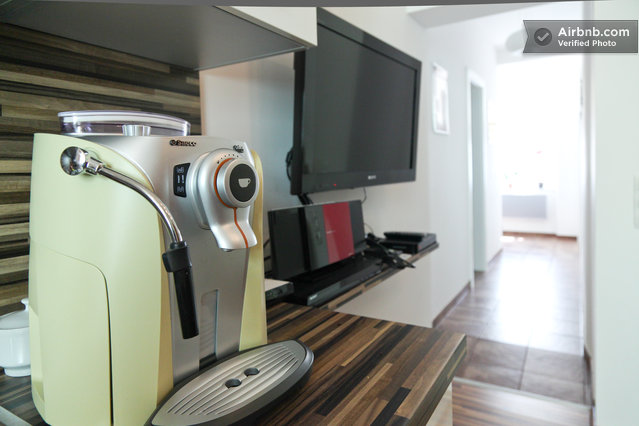 Our Vienna apartment rental
We loved the extra perks that came with renting a place: the kitchen with a fridge, the little espresso makers everywhere in Italy, the washers when we didn't feel like washing our clothes in the sink, the extra rooms and balconies where I went to read when Scott hadn't woken up yet. The owner of our rental in Istanbul lent us a transportation card and cell phone to use during our stay. The apartment we rented in Prague even had a piano with sheet music in the living room. Owners often provided welcome gifts like a bottle of wine, regional specialties, or a half dozen fresh eggs from the chickens they were raising. We could chat with our Italian host's girlfriend about the differences between northern and southern Italy or ask for recommendations on her favorite local restaurants without worrying about any ulterior motives.
You can get great value
You can pay quite a bit for luxury apartments, especially those maintained by property management companies, but there are some great deals as well. In my last post I already talked about some of our favorites, many of them significantly cheaper than a hotel room (let alone a hotel suite) or a private room in a hostel. Having your own kitchen and fridge can keep food costs way down, and a washing machine is handy for free laundry. Rentals also tend to have better discounts for longer stays.
Why Renting Apartments Can Be Not So Awesome
It's not as easy as staying at a hotel
It can be a lot more work to find a good apartment and discuss the details with the owner (especially if there's a language barrier) than to book a hotel. You may need to send a deposit and arrange a specific time to pick up and drop off keys. If something goes wrong, it may be difficult to get ahold of the owner or property manager. If you like fresh towels and sheets daily, most properties do not have daily housecleaning. You might have to take out your own trash.
Rentals vary
We enjoyed most of the places we rented, but we noticed a lot of variability. Some places (ahem, Soriano nel Cimino) outshined 5 star hotels, but we also stayed in a couple student apartments elsewhere that were not very clean. When judging a property, websites usually provide more reviews for hotels than for apartments or houses. Rental sites like Airbnb have a review system, but because owners also review guests, there's an incentive to keep reviews positive.
How to Find a Great Apartment Rental
We found the following websites most helpful:
The first two websites are the hardest to navigate, but they're also where we found some of our best deals. Sabbatical Homes is especially useful for longer stays of at least a month. Neither site charges a fee for contacting owners, but Homeaway requires an email address that will automatically start receiving promotional emails.
Airbnb has the largest number of listings, mostly local residents renting out everything from a couch in their living room to an entire apartment to a luxury treehouse. Airbnb takes a 6-12% service charge for each transaction, but I have to admit they provide a decent service and allow you to pay with a credit card, withholding funds until the day after you arrive to make sure you're satisfied with your stay. They also frequently run promotions for $25 off a stay (search for Airbnb promotional discount codes before you book).
So how to wade through the thousands of listings you might find?
1. Think about the features you want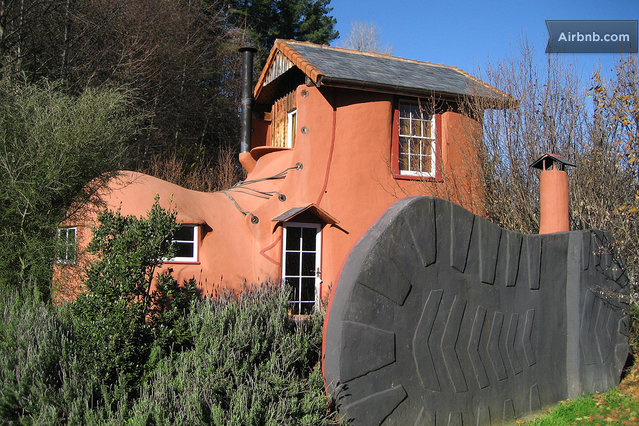 Do you want a whole place to yourself or do you like socializing with others in a shared apartment? Do you need elevator access if an apartment is on the 4th floor? If you're visiting during the summer, can you handle not having air conditioning? How important is location?
Besides the basics, we tended to look for free wifi, a washing machine, and an entire property close to public transportation. You can narrow your search through first filtering by desired features.
2. Look at the listing carefully
Sometimes the best deals are new listings that might not have a lot of pictures or reviews, but you can always email the owner for more information and pictures and see how reliable they are in responding.
* double check the location (will it be a hassle to get there?)
* confirm whether they can accommodate your arrival and departure times
* make sure you see a picture of the bathroom and bedroom (avoid sofa beds)
* reviews can be helpful, but remember that the ones on Airbnb may be biased positively since guests are also reviewed by the owners
* read the fine print: note the possible service charges, deposits, or cleaning fees, and find out what the cancellation policy is
3. Confirm the type of payment
Understandably many owners would like a deposit to hold your reservation (although a few people like the owner of our month-long Japanese rental trusted us without one). Airbnb's credit card system felt like the safest method, followed by Paypal and then bank transfer. A bank transfer has the least recourse if something goes wrong, so make sure that you get plenty of information and have a good sense that a person is trustworthy before sending any money, especially if it's a significant sum (most places shouldn't require the entire amount ahead of time). We did send several bank transfers without any problems, and some people who initially asked for bank transfers agreed to use Paypal instead.
If all that seems really complicated but you're still interested in renting an apartment, I would start with Airbnb since it's pretty easy to use and only a credit card is needed for payment. Or you could just hire Scott to find a rental for you since he was amazing at finding us great places, and he should probably be the one writing this post in the first place.
If you're new to Airbnb, you can sign up through this link for both of us to get $25 off our next stay.